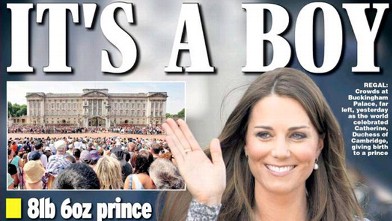 I'm happy the delivery was faultless and mother and child are fine. No, really I am. I'm a republican, not an arsehole. Secondly, Wills'n'Kate© come across a very likable couple and are no doubt gleefully over the moon with their new boy. Congratulations all round.
Unless there is a revolution or any unforeseen circumstances (which I don't desirer), this little boy will be King of the United Kingdom of Great Britain and Northern Ireland, Canada, Australia, New Zealand, other realms, territories and head of the Commonwealth; all due to the arcane principle of a hereditary head of state, blood lines and the strange world of monarchy.
Is this a little old fashion? Well, yes and extremely undemocratic.
Prince Charles, for example, does not want us knowing his private conversations with Ministers' – which, if includes lobbying and political interference, violates the principles of the English Bill of Rights 1689. Plus, back in May, Ed Miliband was 'summoned' at the request of Charles. No disclosure on why the meeting was requested and what was discussed.
A little transparency never hurt anyone…
Royal celebrations might be wonderful public events and have a endearing romanticism about it, but there are negative aspects, too. Do remember that, in the future.