We all know the phrase; "I stand by hard working families", "I promise to help hard working families" and so forth. President Bill Clinton, according to politico mythology, coined it in the early 90s. My fellow blogger, Caron, has authored a post criticising the phrase as insulting and quite patronising. Others have gone on to comment about its alienating nature against those who don't have traditional families.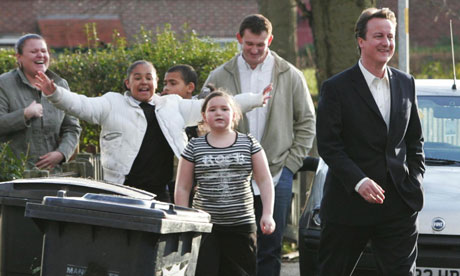 The phrase "hard working families" is a utter and meaningless fallacy; a complete political void that has no substance to it. A political gimmick. No politician is going to argue against hard working families, so there is really no need to offer public support to something which should come natural.
If a party leader did not mention hard working families in his or hers speech, would we automatically assume they're against them? of course not. It is a term to best describe individuals in dire financial difficulties; "alarm clock Britain", "middle America", "hard working families", "the battlers" or "the squeezed middle" – all share the same definition.
I don't feel, however, "hard working families" is insulting – with all due respect, we should not read too much into political sound bites. Political parties aim to make front page and the 6 o'clock headline; that's it. Sound bites are the most tactical method of achieving it.
Sadly, in 21st century politics, political phrases and sound bites are more important than actual detailed policies.